The No. 1 Choice for Gas Line Repair in Columbia, SC, and Nearby Areas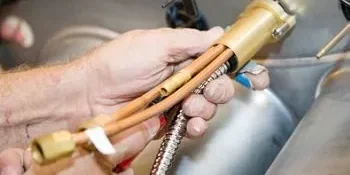 Franklin Plumbing & Drain Cleaning is your trusted source for gas line repair in Columbia, SC, and the surrounding areas. More than half of all U.S. homes use natural gas, so it's important to have a local company you can count on when it matters most. Our technicians are highly experienced and ready to leave you 100 percent satisfied with the results we provide.
More than half of the homes in the United States use natural gas for heating, cooking, and more. It's an efficient, clean fuel source, and it has a multitude of applications. Most of the time, natural gas lines and appliances are totally safe for use. However, any problems with your gas line can result in very dangerous situations. Even the smallest leaks in your gas line, for instance, can cause explosions or even carbon monoxide poisoning.
At Franklin Plumbing & Drain Cleaning, our plumbers know how important it is to keep gas lines in Columbia and surrounding areas of South Carolina functioning well and safely at all times, so we take any gas line services we perform very seriously. We do whatever it takes to help you keep your gas lines in excellent condition.
Call us today to schedule your gas line services, and we'll be looking forward to assisting you in these areas we serve:

professional
drain cleaning




24 hour
available Monday - Thursday
Benefits of Professional Gas Line Services
It would be best to have any gas line issues taken care of professionally due to the risks associated with gas pipes and connections that aren't properly working as intended for one reason or another. Benefits of taking this all-important step include:
Causes for Gas Line Failure
Age is a common gas line failure we have noticed in our plumbing company. Gas lines can also fail due to improper installation, lack of regular maintenance and upkeep, or improper use of gas-based appliances. Exposure to moisture is another common factor contributing to gas line failure since this is what leads to rust and corrosion.
Signs You Need Gas Line Repair or Replacement
Smelling gas is one of the telltale signs of gas line issues. Other signs to look for include:
How Does Gas Line Repair Work?
Gas line repair starts with a call to a plumber in Columbia, SC, and nearby areas. We perform an initial inspection first to determine the source of the problem. In some instances, we may only need to replace connections or valves. Other times, however, it may be necessary to replace the entire line - or sections of the affected line. It's also sometimes possible to make strategic repairs to certain parts of the gas line.
What to Do in Case of a Gas Leak
Recognizing a gas leak may be difficult. Natural gas is scentless, so a rotten egg scent is usually added to it to make it more detectable. If you believe that you smell a natural gas leak in your home, take the following steps before calling our professionals:
Our plumbers in Columbia, SC will be able to safely and thoroughly repair any gas line leaks.
if you are looking for a local plumber that offers quality plumbing and drain cleaning services
If your gas line is rusty, severely damaged, undersized for your needs, or needs to be repaired more often, we recommend gas line replacement.
We Are Your Top Provider of Gas Line Installations
Gas line installation in your homes may be necessary if you're adding any new gas appliances, like stoves, water heaters, or furnaces. Our plumbing services will be able to take care of every part of the job, from obtaining the proper city permits to inspecting your property and ensuring that your new gas lines are totally up to code.
Franklin Plumbing & Drain Cleaning has been keeping clients satisfied since 2014. We're a plumbing company that does this with a focus on quality that includes:
Call for Repair or Installation Service Today
Make a smart and money-saving choice by making Franklin Plumbing & Drain Cleaning your first choice for gas line installation and repair in Columbia, SC. Whether you need a new line because you're adding gas-fueled appliances or looking to repair what you already have in place, we're ready to get to work for you. Call us today to schedule an appointment, or reach out to us online via our contact form.